Catching Up With The King: Jeff Mauro of Food Network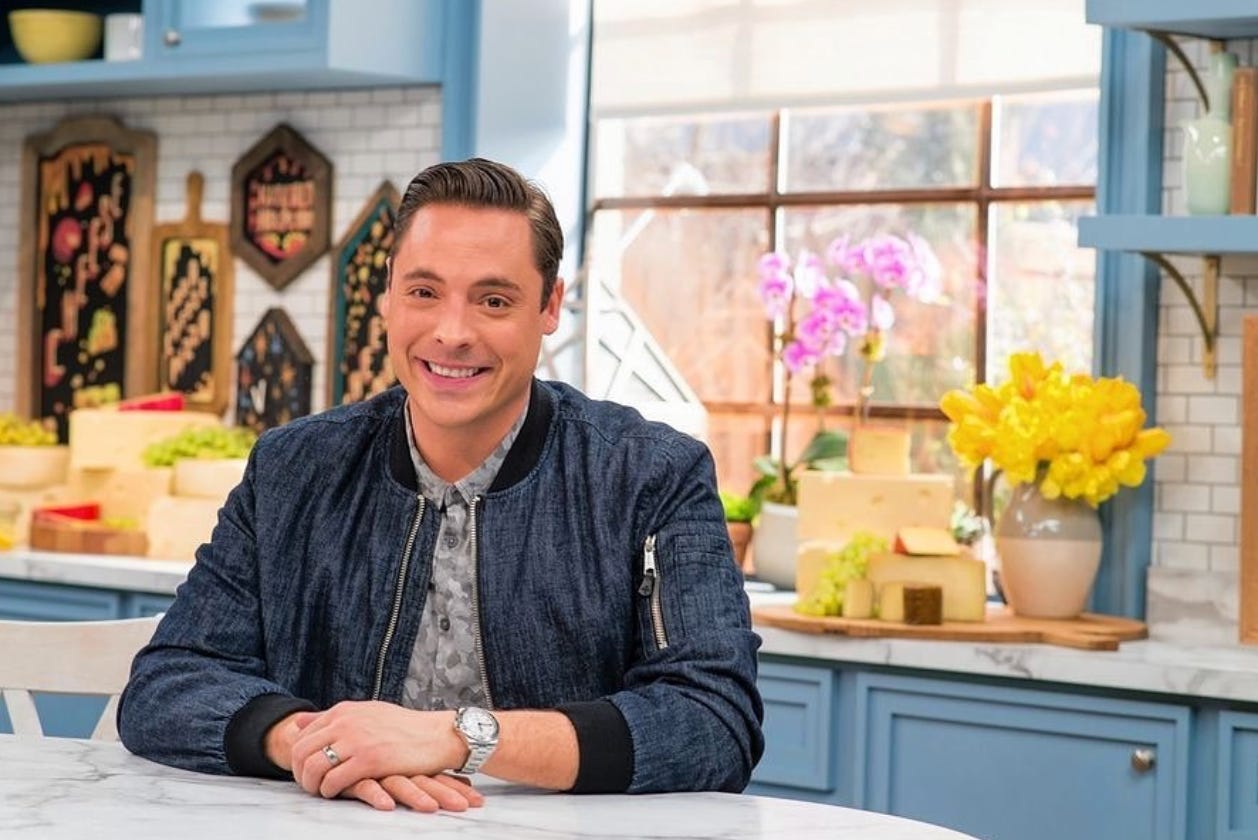 New Orleans has Emeril. Georgia has Alton Brown. California has Guy Fieri. There's something about the hometown local chef made good. They feel like they could be your brother or your father, but they're also making America happy by serving up good eats and humor. A few years ago, Chicago got their own guy, Jeff Mauro, when he won season 7 of The Next Food Network Star. Mauro went on to host The Sandwich King where he brought mom and pop spots like Mickey's in Oak Park to the national stage. Mauro starred in a few other vehicles, but he's found great success as part of a team on The Kitchen which is now in its 24th season on Food Network. 
I've always loved that Mauro felt like one of us, the guy next door, and in fact when he could have made a life in New York or LA forever, his career actually took off when he committed to moving back home. Today he resides in River Forest with his wife Sarah and son Lorenzo. I suspect his current residence has something to do with needing to be really close to Johnnie's Beef in Elmwood Park, but we'll focus on the fact, that despite the fame, Mauro really is a sah-sidge and Sox-lovin' Chicagoan.
I've always loved that while Mauro has a TV personality, it's feels like a slightly hyped version of who he really is, a fun, kind, dude who also happens to be one of the last of the actual cooking cooks on the network. As you'll see below, he graduated from Cordon Bleu. Unlike say pursuing the heights of Michelin like Joel Robuchon, Mauro took his classical training and gifted the world with macsagna, pizza-stuffed chicken, and maybe most important of all, "pig-candy" or brown-sugar-bruleed bacon.
That last dish was a centerpiece of his now-defunct restaurant chain Pork & Mindy's. One of the crazy things to me about Mauro, is that if I popped in Pork & Mindy's it wasn't uncommon to see him working the line in Wicker Park if he was in town, like legit working with a sweaty brow mopped by a pink bandanna.  While Mauro knows how to put on a show, he's not a show. He's one of us, a hard-working windy citizen. 
Enjoy the interview…
How you doing in quarantine times?
Omitting the immense amount of travel in my life has changed things. It's nice to be waking up in my home, instead of a new hotel room three to four times a week.  Still, I'm pretty busy, but what's changed is now I'm using my family as my production staff.
You grew up in Elmwood Park. You know how they say some people are born with a silver spoon, well, I assume you were born with a Johnnie's Italian beef in your mouth?
Sweet and hot is constantly running through my veins. I lived in Galewood. Now I live in River Forest. It's all come full circle. I went to school at St. Vincent right across North Avenue from Johnnie's. I love to see that beef on international lists. We lived in Elmwood Park and when the wind was blowing right, you could smell the charcoal and sausage. 
You studied radio and television at Bradley University. I like to say I also studied a lot of TV in college, but you actually studied for a degree, right?
I did focus on watching the choicest seasons of The Simpsons in college, but yes, I studied radio and TV at Bradley. I was always into entertainment. I started doing Second City improv from third grade on. I figured after high school, I could still work at the deli, and I'll just do comedy on the side. My family said, you need a college degree. But, I was always onstage. I did standup in my 20s. I failed, but still went back to improv, short form and long form.
You mentioned the deli. It was a place called Prime Time, right?
Yeah, it was my older cousin Dave's spot, who was a chef. My family has always been in the restaurant business. My uncle owned Tilly's which is now where Santa Monica House and Stellabarra Pizza is.
Oh right, wasn't that the place with the "parking in the rear" sign?
That was the Manhandler next door. They owned the Tilly's building. Imagine, my uncle, this mustachioed Italian guy with a cigar, saying 'I gotta go drop off a check at that place with parking in the rear.'
You did Tony & Tina's wedding. That's a really interactive experience. I bet you have a bunch of crazy stories.
I auditioned as a waiter and worked my way up to the Tony role. I could write a book on those years. I really honed my improv muscles and learned how to work a room. You are interacting with 30-40 tables. You have to hit your blocking. You're dancing, and you get in staged arguments.  You can throw me into any situation now. It's not easy to cook and talk at the same time, but I learned to do it when I was in this show.  The company was run by two brothers, that were, shall we say not Broadway thespians
They didn't go to Juilliard?
No, there were a lot of neighborhood guys as actors. They likely went to a technical school.
Then you moved to Los Angeles?
I worked with The Groundlings, worked in a production office, and hustled my own cooking show. It was an abomination but I'm proud of it. It was me and my friend Ali Kahn, called Chef Jeff and Ali. It was all gonzo parties in the Hollywood hills with no thematic substance, basically two guys slugging from bottles of Jack Daniels and cooking legs of lambs.
I mean that's how Vinny Dotolo and Jon Shook (Animal, Son of a Gun, Jon & Vinny's in Los Angeles) made their career right?
See, I'm vindicated!
But then you went to culinary school at Le Cordon Bleu?
Eventually I was done with LA, and I wanted to start a family. Even though I cooked professionally since I was 15, I wanted the paper. I knew I wasn't gonna be the best chef or the funniest comic, but somehow Food Network was the ultimate goal.
Speaking of jokes, I read you were valedictorian of your culinary school? Is that real?
I never missed a day and I was never late. I was number one in the class. I mean for so long I was Johnny 2.3 GPA. I never cared about school, but I was paying out of my own pocket. I was 26. Everyone else was like 19. I was a taskmaster, telling everyone, 'Let's go, clean! No one is working hard enough!' 
You auditioned for Food Network Star three times, I think that's important for people to know, that you're not an overnight success. You had to persevere.
I auditioned between seasons four through seven. Ask my wife about overnight success. We've known each other since freshman year at Bradley, so she's been through going to see my shitty standup at bowling alleys and fried chicken joints, and she's seen Tony and Tina more than any other human on the planet.
What do you think made the difference?
By season 5 I had my son and that gave me a story. I had a family and good point of view with the sandwich thing.
What if you didn't win Food Network Star? What would you have done?
I would have opened a deli. I was a private chef for Guaranteed Rate, the insurance company.  I was my own boss. I cooked I prepped and served three hundred people a day in this café. I honed my skills at a deli learning how to multitask while talking. It's hard to cook and talk without burning things. The deli was the stage. Slicing meat, that was the exchange. 
Right, the great countermen are all entertainers. I think of Gino Gambarota at Manny's of course.
That's right. Gino has been on more TV than I have, and I bet he makes more than me.
Speaking of delis, I saw this video interview you did with Mark Bazer on The Interview Show, where you pointed out when the deli guy is cutting your meat, he hands you the first slice for a taste, and it's the worst part of the meat, because it's oxidized. You're so right, it's the worst sales move ever.
Exactly, the meat probably has a rainbow iridescence from sitting for so long. You're already committed to the transaction, I guess.
So serious question.  You've talked about how you developed your humor to win over people when you were a "chubby" kid and if you look at the first few seasons of say Sandwich King, you had a bigger frame. Now you're super lean. I mean you're in incredible shape. Does it impact your delivery? Do you ever worry if you're less funny or do you try differently now that you're super healthy?
Big-framed. That's a very nice way to say that.
Ha. No, I mean I don't think you were ever fat on TV, but it looked like you were more muscular, like you were ripping the bench press.
Well, I do come from larger framed genetics let's say. So, it's been a constant battle for me, my siblings and everybody in my family. My wife and I want to be a good example and do fitness with our son. Was being bigger an advantage?  Do, I owe that adversity or the diffusing of bullies to the development of my humor? Maybe. But I don't know. I also think that's bull crap. My son is a string bean and he's funny as hell. But, then again you never know what formed you, really.
I've been watching the quarantine episodes of The Kitchen, and I recognize they don't have the high production value of the studio, but I love the human side of it. I love that Katie Lee's dogs are in the background, and that you're struggling with the emotions of being a dad, watching your son Lorenzo pour tomato soup and hope he doesn't miss the bowl, while also trying to be a TV personality. I think it makes the show more exciting. I know you guys can't interact as easily, but how do you feel about shooting the show this way?
I'd watch non-quarantine episodes like game film, microscopically with respect to my own performance, to see how I could improve. I watch these quarantine episodes with utter joy. I like seeing everyone with their family and in their houses. But, I also long for our crew to get back to work. There are eighty people right now who help us so much, and my biggest stress is getting back with those folks. But I do find these new episodes bring me so much joy. This is us.  I love watching Geoffrey [Zakarian] and Katie at home and the ratings have been great.
There are no cuts and no support staff.  My wife Sarah is behind the camera. We're making two batches of soup, one for close-ups and one for the long shot. If Lorenzo doesn't pour perfect bowls of soup, then we have to make a whole new batch.
That place where I get in the zone, where I excel is the performance aspect. That's the hardest part about the quarantine is that I can't only focus on my performance. There's camera work, producing, cooking…
And washing dishes…
Yep, dishes, plus the wifi is on the fritz because were running six devices.
You talked about performance. I like that you have a schtick, but you're not overtly schticky. The Chicago guy I'm talking to on the phone seems very much like the guy we see on TV.  Like what's the difference between camera Jeff and regular Jeff.
You have to ask my wife. Hold on, she's right here. Sarah, tell Mike what's the difference between camera Jeff and regular Jeff.
Sarah Mauro: Camera Jeff is more amped up. He's a little out of body.
Jeff: I'm as heightened as you can get without the use of pharmaceuticals. People are often like, what are you on? All I need is an iced Americano!
You've made some crazy stuff like macsagna and pizza-stuffed chicken. What's the craziest, controversial recipe you've done?
I went on the Today show and did slow cooker deep-dish pizza. People were hostile.
On The Kitchen, you and Geoffrey Zakarian are kinda like Adam and Blake on The Voice. Is it a real or made for TV bromance?
It's real. I've already talked to him three times today. I like his wife Margaret and his family.  I bust his balls constantly off camera.
When you were a young cook, did you watch Food Network? And if so, who did you look up to then?
I loved Alton Brown, that sketchy element. I love guys like him and Kenji [López-Alt] who reverse engineer stuff. I loved the camp of Good Eats. By the way, when I say sketchy, I don't mean I think he's gonna roll me, but more like the sketch comedy set-pieces. 
What was it like to meet him in the studio as a peer?
Oh my god, on Food Network Star he led the judging for the competition at the farmer's market. I saw Alton and was scared shitless. I really wanted to impress him then. Now, I have had the joy of having dinner with him. He's very interesting,
I saw this video where you and Fabio "This is Top Chef, not Top Scallop" Viviani went undercover and tried to serve parodies of four-star cuisine to unsuspecting patrons at Hollywood Diner. At one point, former White Sox manager Ozzie Guillen is in the dining room.  Did he randomly come in or did you guys set that up?
No, he just randomly walked in. I guess he eats there regularly. I was like I gotta crush this with the improv. But, all of the sudden, you clam up. I'm like this is a guy I idolize, and I have to bust this guy's balls on camera. It was tough.
You did a pretty good job. I love how you served him food in a mini-Colorado Rockies batting helmet while explaining the sport of baseball to him like he had no idea and you had no idea who he was. 
One last question. You have often talked about how you weren't great at school as a kid. By all accounts, you've been incredibly successful as an adult. As a dad, I'm often trying to figure out how to get my kids to look at life in different ways to find their own success whether it's academic or more importantly how they become good humans.  I wonder if you have any advice on how you got there. It seems to me, you always worked intensely hard at whatever you did whether it had a payoff or not.
For sure, I always worked hard. If I was in an office, I tried to be really good at filing documents. In culinary school, I tried to be the quickest dishwasher. I always try to tell my son, don't half ass anything. If you're going to spend 20 mins or an hour on Spanish homework, do it better than anyone. The other thing that goes a long way I think is I was always nice.  I've never been a dick. I mean there are situations where you have to protect your family, but I always treated people with kindness. I think that goes a long way, and cosmically, that's just good.