"Greek Chef"
A few years ago an editor told me I had to check out this place called Boho, aka Bohemian House, in River North, helmed by a guy who'd come off a six year stint at a suburban hotel steakhouse. My gut reaction, was OMG, will the waiters be wearing berets? Will nightlife impresario Billy Dec be serenading me on the way out? Would Boho be full of drunken tourists shaking off their Howl at the Moon Billy Joel cover benders? 
And then the chef served me a beet dish. I am not a beet hater like former Chicago resident Barack Obama, but I was weary of the fact that beet dishes at that point were as ubiquitous as caprese salads. Jimmy Papadopoulos's beets were beautiful and refined. They were followed by massive beef cheek pierogi that gave my own Polish grandmother a run. The spaetzle was cloud-like.
Chef Jimmy was a cut-up. I asked him whether he used wax on the stylish handlebar moustache he sported at the time and he told me no, "just spaetzle batter cured under the kitchen's heat lamps." 
Some chefs lose the fire, or they never had it. Jimmy is not one of those chefs. Even though he's won a bunch of awards and created the amazing Bellemore, he's hungrier than ever. Vacation for him is dining. The great cookbooks are his fun time reads. Technique is his obsession.
Last week, he reopened Bellemore for takeout. Like many, he's serving comfort food: jerk chicken, fried chicken sandwiches, and rigatoni Bolognese. Unlike so many of the other spots, Jimmy's Bolognese is made with house-extruded pasta featuring a soul-quenching bite, and his fried chicken drips with fried onion ranch that I currently would like to do shots of.
I caught up with chef Jimmy to see how he's getting back in to the swing if things after a two-month pandemic layoff. Enjoy the interview!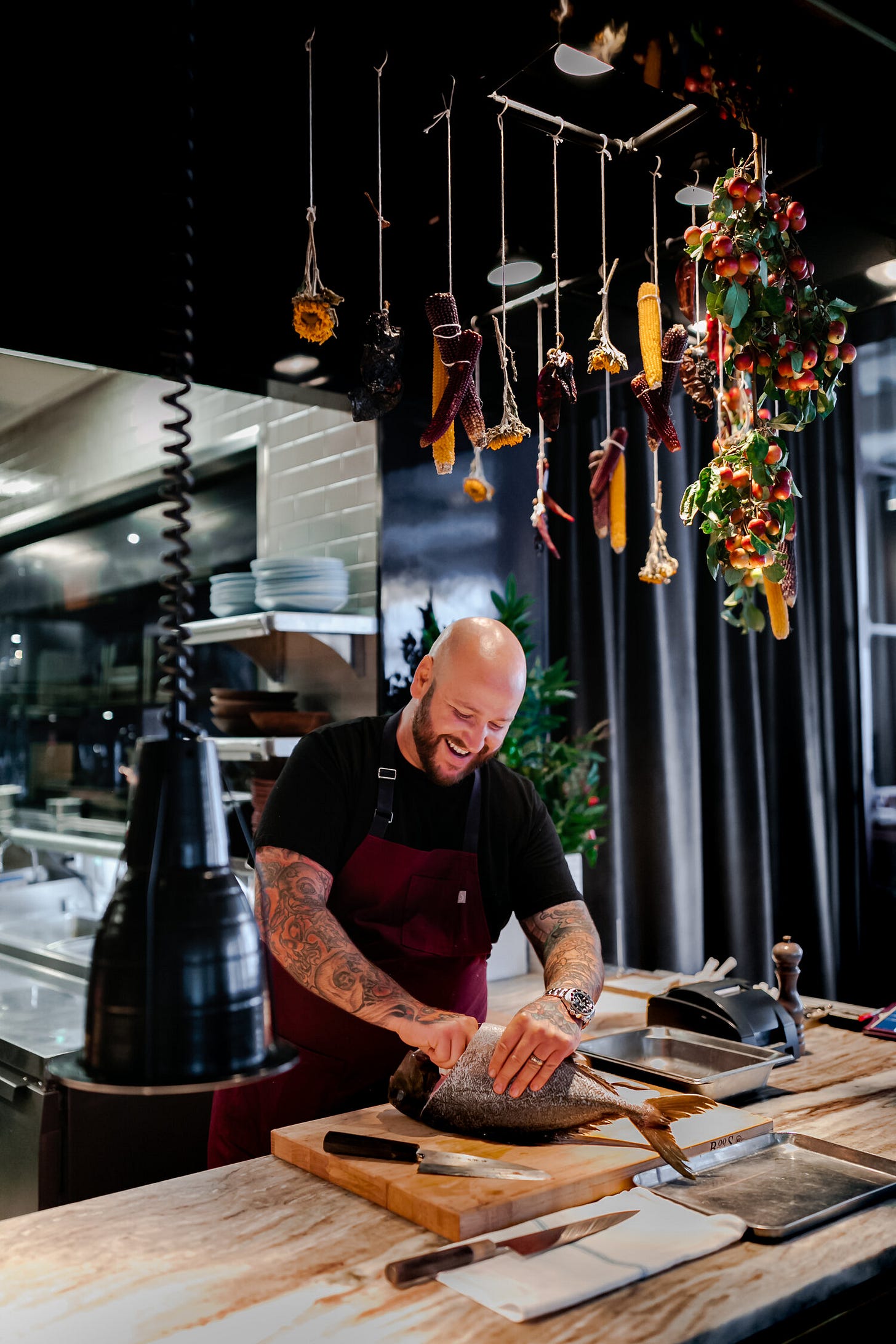 You're back in the kitchen at Bellemore! How was your forced time off?
It was a good time to be with my family again. The kids are young and their minds are so different every day. We closed on March 13th, so the first month there was this daily grapefruit-sized ball of anxiety in my body, but then I said, let's have some fun and I got to enjoy my family.
You also took some time off in between working at Bohemian House and the job at Bellemore. I believe at the time you said, you were stepping down to spend time with your family. Politicians say that line all the time. Did you get to spend time with your family?
I did. With that restaurant [Bohemian House] we had success out of the gates. We were doing really well, but at some point, I was doing fourteen meal periods with one sous chef. I met with ownership, and financially and otherwise their answers didn't match up with my goals. The returns didn't meet the work I was putting in. I decided to step down. They were good people, but it was time to move on. I took off a whole year, actually from June to November. I didn't know what was next, and if I don't know something, I have anxiety. I didn't know if I'd have a place again.
What I really want to know is what happened to that place setting dining table art glued to the wall (the Boho dining room had a massive dining table setting, like something out of the Palace of Versailles, glued to the wall). Did someone take it home for their house when the restaurant closed?
Did it fall on someone at some point? That was so much fun. 
Prior to Bohemian house, you worked at a hotel steakhouse in the suburbs for six years, Sam and Harry's. What did you learn? Was six years too long?
I think it was too long. I have always had a drive to become something, even though I dropped out of high school and was kind of a punk. My mom cut this guy's hair and he had a pizza place, so she said I should get a job there. She was like Jimmy doesn't have any direction. But, then I told my mom I wanted to go to culinary school, and so she took a loan out on her mortgage to put me through school. I was so grateful.
I worked at De La Costa, but I was driving to Chicago from the suburbs for $9.50 an hour which didn't make a lot of sense. I though, hmm, this restaurant is in a Marriott. That's a good company. I wanted to learn as much as I can. Sam and Harry's was like a playground. The chef was super fucking cool. Banquets made so much cash that we could do whatever we wanted at the steakhouse. I could order whatever ingredients I wanted. I'm kinesthetic. I need to see it, touch it, and do it to retain the information, so this opportunity was perfect. I became the chef de cuisine, but I worried I'd end up a banquet chef. I found the Bohemian House job listing on Craigslist.
A lot of people know you cooked the oyster and caviar pie to get the job at Bellemore. Did you cook anything interesting to get the job at Bohemian House?
The owners came in to eat at the steakhouse. I think I roasted some bass from Iceland or blue cod from Chatham Island.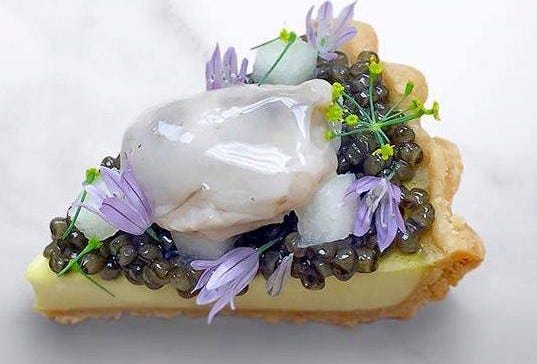 You worked at the Whole Foods fish counter too, right?
After the pizza joint. I remember being blown away in 2007. I never saw a grocery store like it. I was selling fish, and this guy came in wearing his chef whites, and I asked him how you become a chef.  He said, I went to culinary school.  That's how I decided to go to culinary school.
I read something that said you were into art. Did you draw and stuff like that as a kid?
100 percent. I think I had a .7 GPA. I hated school.  Nothing interested me except art.
I like to draw. I remember the engineer and general contractor asked what I'd like the Bellemore kitchen to look like. I said, I'll get back to you tomorrow and I drew the whole thing out and handed him the drawing.
One of the things I've admired about you is you're a serious cook. You read all the books. You go on vacations to eat. You study the important restaurants. I know you were inspired by the French Laundry cookbooks as a young cook…
Lee Wolen [Boka, Somerset] always says Jimmy, you play restaurant. You overthink everything. It's who I am. I tried to make Bellemore, in its original iteration, the example of that. I wanted it to be great fine dining. I really have to think about things and obsess about everything. It's how my brain works.
Which is ironic because Wolen worked at Eleven Madison Park. He comes from the serious world.
Yeah, he's an EMP alumni. But it's funny, he's always walking around with an iced coffee and his knives are blunt as spoons. He's always like I don't waste my time on the things that don't matter. He's super-talented, but he laughs at the super heavy chefism. You ask anyone at EMP, and he was always the guy getting his stuff done and had it together.
Ultimately, as a young cook, you aspire, like young kids studying Michael Jordan, like D wade or Lebron. You emulate and study it to become it. Wolen is the man, he introduced me to Kevin [Boehm] and Rob [Katz] of [Boka Group].
Speaking of emulation, that caviar and oyster pie that got you the job, it's a riff on Thomas Keller's Oysters and Pearls, right? Also, I feel like it broke the internet for a minute.
Exactly. I was thinking what do I want to serve for the tasting, how to make a grand first impression? I remember reading about how TK [Thomas Keller] had that dish in his head. I was thinking, that's the profile I wanted, all the accoutrements in a fun compact bite. It was a little quiche with oyster and caviar. I drew it out with pen and a piece of paper, and imagined how it would eat top to bottom. Ironically, it wasn't on the original menu I sent to Kevin. I was worried it would define the restaurant or stick out. He's like you gotta put it on the menu. I wasn't sure. I didn't want a Ferrari in the middle of the floor when we were selling a lot of Toyotas. It was almost archaic, like classic Le Bernardin, and it kind of became that thing that defined the restaurant. 
Do you ever find yourself alone in the restaurant at night frightened by the creepy owl murals at Bellemore?
Ha, yes. All the time. It's such a fantastic space. It's got that art deco fancy vibe. But, also, it's so elegant for such a large space.  We always joke, it's like people feel you're at grandma's and the furniture is beautiful, but it's covered in plastic and you can't touch anything. But, it's a super beautiful space.
Which brings me to my next question. You really made a valiant play for the fine dining move, but, also you're reconcepting in to more of a brasserie now.  Do you think fine dining is dead? Or at least a notion of it. I don't ask this gleefully or even because I believe that's true, but I'm starting to wonder about it more and more, especially given the pandemic.
I tried to build it at Bellemore, a serious chef driven place where young cooks wanted to come. I think in year one that's what we did, hitting on all cylinders. You do this and you wait for Michelin and all the accolades we tell ourselves that are important, but they didn't come. In the end, it just didn't really materialize. It didn't become a darling. For those goals, it was maybe a little too big, a massive 140 seat dining room. Some people thought we were a Boka facsimile. The foot was a little small in too big of shoes.
This business is so tough. Everything is perishable, the people, the product, the business and this pandemic has just gutted it. People will always want to feel good. They don't want to feel like they're in a museum and talked down to. That's what we need to deliver.
Yeah, but I think you're one of the most talented guys out there. If you can't pull it off, I think it says something about that way of things dying. I mean I think that's also sort of the lesson of the pandemic. I don't want to sound callous, but also, maybe this is a reckoning that will lead to rebirth, where people will realize they have to make better business decisions, charge more, and refine what they deliver.
I agree with you, it's almost like a forest fire, after a burn. New growth will come. We don't need restaurants. But, we enjoy them. People crave connections, and that's what restaurants provide, and that won't change.
My style is casual and comfortable, but also soulful, balanced, and beautiful. I feel like maybe Publican 2009 was an ideal. Like you can have Keller finesse, balance in between, but not get too cheffy.
Speaking of Publican, you staged at Blackbird and I heard you called Paul Kahan "chef"?
Yeah, that was under Mike Sheerin. His stuff was good, really off the wall. I was working and I saw Paul. He had his backpack and was walking through the kitchen and I said, 'Hi, Chef!" He said, "Hello!". Someone came over and said "Did you call him chef? He doesn't like that."
LOL, I remember back in the day his publicist warned me, "He does not like to be called chef."
He's a legend. 2005 Avec with Koren [Grieveson] and Blackbird, they were owning it. Those spots put the city on map. Blackbird is still an iconic gem.
I read that maybe your guilty pleasures were White Castle and Lucky Charms. Is that still the case.
Now it's more like Jet's pizza and French Toast Crunch.
Your last name is obviously Greek. Is that a cuisine you feel connected to?
By name I'm Greek. I wasn't raised in a traditional Greek family. I didn't go to Greek school. I don't speak it. People instantly hear the name and they want me to do Greek. When I cook at home, I want to eat delicious fun well rounded meals. That's kind of what we're doing with the takeout, the jerk chicken dinner.
You're a bit of a sneakerhead right? You love the Virgil Abloh "Off White" Nikes.
Super. I grew up in the 90s. I had Scottie Pippens back in the day. It brings back the childhood nostalgia. Back then, you couldn't go to a gas station without seeing a Bulls picture or the Dennis Rodman hair color changing cup from McDonald's. I like the loud obnoxious colors. I like to wear them with like royal blue sweatpants.  
I'm the same way. I always loved the Agassi stuff. I had the Air Tech Challenges with the pink lava colorway. I got the Don C frankenshoes that have the Jordan 1, the lava, and every other Nike invention on it. Do you have a grail?
I like the Jordan 5s, hands down. They're like fighter jets. The Jordan Bred 1s, the wolf grey, the ice white sole. Abloh lives right behind Boka with his "Off White" Mercedes G-Wagon.
Nice. Does his license plate say "G-Wagon"? It should. Speaking of big figures, I know you were really into Thomas Keller early in your career.  What does he mean to you?
There's still no doubt, you respect him. Stylistically, the world has changed. It's not Loch Duart salmon with a spinach bowl and vanilla. But he is the finest of American chefs. Fundamentally, his example leaves a mark at that time in your career as a young cook and changes the way you think. You look at what he has built, a lifelong legacy that will be there. It's like the rap groups from the 1980s vs. now, two ends of the spectrum. Back then it was Run DMC and Tribe [Called Quest]. Keller's like an OG. You have to give him mad respect.
We talked a little earlier about Lee Wolen. You guys seem really tight. Tell me about that.
Lee, put me on. People need a break. Talent has a lot to do with it, but the timing has to be right. Someone needs to give you an opportunity. Lee is really a tough no-nonsense guy. When he came in to Boho, I saw his name on the list and I told my cooks to crush him.
He felt it. He said, no one was cooking like Jimmy and he brought me up to the BOKA boys. I forever have a big brother in Lee. He busts my balls relentlessly whether it's 7:30 in the morning or 10 at night. He's always making fun of my stuff, but he's my big brother and I'm forever loyal. That's a rare thing. He put me on.